Hall Rental
For a hall rental application please click the link below:
THE REVEREND SPYROS MOURIKIS COMMUNITY CENTER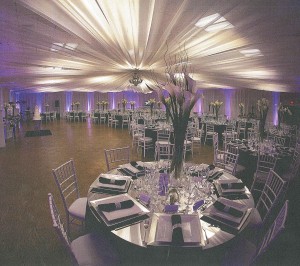 Celebrate Any Occasion With Us!
Centrally located on Cape Cod, St. George offers a beautiful hall perfect for celebrating any occasion. Tastefully decorated, the hall exudes a warm, inviting ambiance. What sets us apart from the rest is our magnificent, commercial kitchen envied by local caterers. Additionally, we are one of the few locations which offers our guests the flexibility to serve their own menu prepared by their favorite caterer or chef.
---
Amenities:
Ample parking
China Rentals Available (400 settings)
Tables, Chairs and Portable Stage Provided
Capacity for Sit-Down Events: 360
Wet Bar Adjacent to Hall
Custodian On Premises During Function
St. George Hall Church Kitchen

---
Feel free to stop by anytime Monday through Friday between the hours of 9:30 a.m. and 3:00 p.m. to view the hall.
---
Contact Information:
St. George Greek Orthodox Church of Cape Cod
1130 Falmouth Road
Centerville MA 02632
Phone: (508) 775-3045
Fax: (508) 775-3888
Office: paula@stgeorge-capecod.com
Clergy: agios@stgeorge-capecod.com
JOIN US FOR THE 10th ANNUAL
CHARITY GOLF CLASSIC
MONDAY, SEPTEMBER 16TH
AT WILLOWBEND COUNTRY CLUB
SEE DETAILS BELOW AND UNDER OUR EVENT TAB
Sunday Services
Orthros (Matins): 8:30 a.m.
Divine Liturgy: 9:30 a.m.
Upcoming meetings & events
Festival Wrap-Up meeting Tuesday, August 20th, 7:00 pm
10th annual Charity Golf Tournament @ Willowbend Monday, September 16th
Daughter's Of Penelope Annual Tea Saturday, October 19th
OTHER RESOURCES:
Newsletter
See "News" Tab
Weekly Bulletins

See tab under Worship/Sacraments
Name Day Cards